1. Stella McCartney:
I actually liked this collection which is rare because usually I'm just like meh, appropriate, whatever next. It was very feminine and light and felt perfect for spring. This dress is so beautiful and intricate but easy going. I don't like those mullet hems though. Commit to a length and stick to it, designers.
Very YSL. I loved her muted palette.
This unitard is the coolest ever. I don't care much for the jacket but woo woo, I wanna be a singer and then wear this unitard and rule at life.
2. Giambattista Valli:
I was reading the most recent issue of Bazaar and in the article about Givenchy they talk about how his clothes are crazy and Audrey Hepburn would never wear them, but that's ok because there aren't any Audreys today. I think Valli designs for the Audreys of today and surely there's gotta be a couple of them who swoon over his perfectly perfect feminine gowns that will actually look better on real women than they do on skinny models. I'm always amazed at the way he sees the female body and envelops it in fabric, he is very adept at creating volume without clownish results.
This dress is flawless.
(Do you think Anna Wintour will be ordering some of his clothes? If you take the crinolines out, they seem right up her alley).
Seriously, this is so beautiful and delicate. That cocoon shape and pencil skirt are melting my heart.
3. Bernhard Willhelm: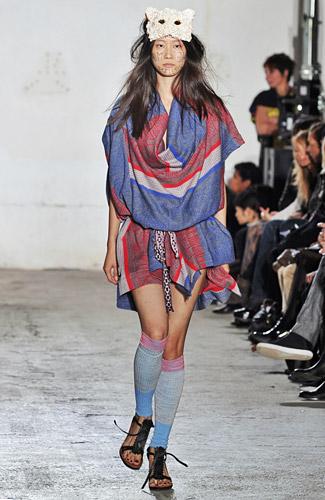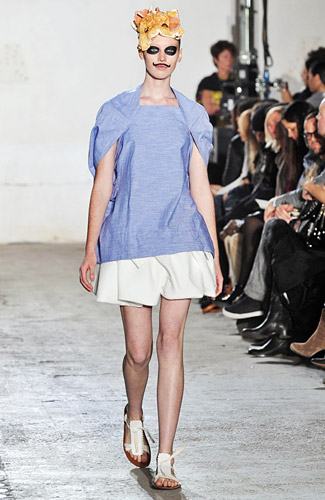 Love it. Love it. Love it.
4. Yves Saint Laurent:
This collection was classic Saint Laurent. These clothes are definitely timeless pieces that the women who can afford them will be bringing out of their closet again and again for the rest of their lives. It wasn't as outlandish or as iconic as his last collection, but I think it was the right step to take on the first show after Sant Laurent's death. Pilati is really a genius. I love the combination of navy blue and black even though it's allegedly a major fashion faux pas (but then again, I love wearing white shoes year round, so what do I know?). The fabric of the jacket seems very luxurious and I love his way of showing a cropped top with a high waist. It's the only appropriate way to wear it.
This is just a classic.
The western kimono. Love it. It just works. It will work on an older woman going to work and it will work on a young lady out on the town.
My favorite thing about this sequin dress is it's slight sheerness. I love that Pilati put a bra under it instead of letting it be a nipple parade like at so many other fashion shows.