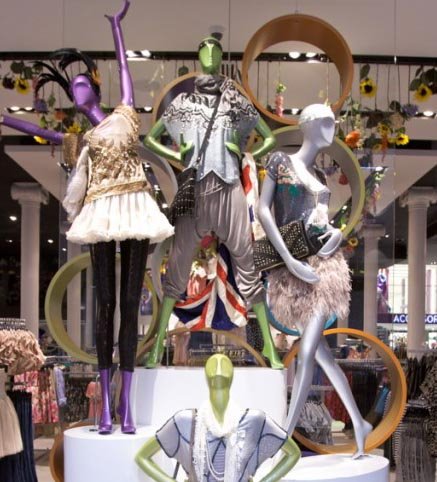 Yes. Topshop finally opened today in the ole' U-S-of-A. They had crazy hipster djs spinning music all day, Kate Moss to make a cameo, and I'm sure an insane amount of waiting, mayhem and pandemonium. Luckily, I got to check out their new digs yesterday, which was totally rad. I ran into
Elizabeth
and her awesome friend
Kat
and we ran around the three floors drinking champagne, freaking out about insane blue sequin hot pants and enjoying the celeb quotient*.
But what about the clothes? Well first, let me get something out of the way. Forget everything you've ever heard about Topshop being "like a British H&M". It's not. The prices are definitely not cheap, with most dresses clocking in at about 80 dollars. Once you get over that, you'll find a lot of great items. The shoes for example, are way cool. I picked up a pair of awesome
pink patent leather lace up shoes
that I know I'm going to wear all summer and were totally worth their $55 tag. I also picked up a pair of
floral print tights
. Their selection of tights is AMAZING, they have a ton of colors and prints and most of them are between 12 and 14 bucks!
Of course, there was waaaay more stuff that I loved but unfortunately could not bring home with me. These
nude lace-up sandals
are insanely comfortable and looked surprisingly good with the navy plaid socks I happened to be wearing. The
suede fringe dress
is also super rad. I'm only in the beginning stages of fringe-love, but I can definitely say that its 100% good. There was also an incredible light pink feather tiered skirt that tempted me the entire night. It's not on the site, but you can see it in the first picture of this post on the right hand mannequin. It was so LUXURIOUS!
Another great thing at the store is their
selection
of
lingerie
. I spotted a couple f awesome bras that are the perfect item to wear under the more revealing summer tops and dresses. The
denim
one needs to be mine. I used to have one when I was in high school (you know, I dressed like Gwen Stefani so I had an assortment of brightly colored bras to be worn under my tank tops/wife beaters), but it obviously doesn't fit me anymore, and I think it's time to rekindle that relationship.
Pretty sweet stuff, right? Even if they're not everyday prices, there are still plenty of awesome thing to be had. And I'm sure that there'll be tons of space for Topshop in my closet.

*Celeb quotient: Harvey Weinstein???!!?, Olivia Palermo looking almost invisibly skinny, Debbie Harry, Jlo & Marc Anthony (wtf? also, no worries, I kept it civil and did not act on my longstanding feud with her) and Julia Restoin-Roitfeld looking amazing and holding the aforementioned feather skirt in her hands.