You guys are familiar with
Tavi's
awesome
Spacegirl
tee, right? I finally got mine in the mail and I'm super psyched about it! I got a bit bored tonite so I decided to play around with it and I think I fell in love with it even more. The print is so bold and it's just perfect.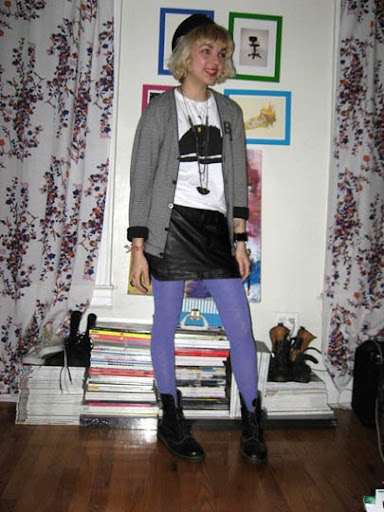 I started off with a more or less look inspired by the Tavz, since she's been into purple and leather quite a bit lately. The shirt is so cool that it's just really easy to make it look good with stuff. I think I've only worn that hat once out in the real world, which is a bummer because I really like it. This is how I'm most likely to wear it, for sure.
This one I tried to make "fancier". The best part about coming up with this was that I found those Karl Lagerfeld for H&M satin tap shorts in the very very bottom of my drawer AND they look good under my sheer Marc Jacobs skirt! Score! I'm wearing the Nine West/Miu Miu satin maryjane knockoffs from 2 years ago that I think are totally rad. Can't get much better than purple on purple.
Yay Tavi!