This was the second Couture collection from Pier Paolo Piccioli and Maria Grazia Chiuri (I promise I will learn those names in due time!) for Valentino, and while other people seemed to really dislike it *cough*CathyHoryn*cough*, I LOVED it. See, it's not that it was a magnificent collection the way that, I don't know, Mcqueen or Galliano can have a magnificent collection; it's just that it was filled with awesome things that I wish I could wear. At the end of the day, isn't that what matters? I think PPP and MGC managed to inject wearable clothes with some Couture drama and fantasy. The clothes were romantic and sexy and a little bit dangerous, and I think this is a very good step for these two.
.
The collection was mostly black, which is definitely a departure from their offerings last season and, from the Valentino spirit in general (no red dress!), but it's just a very modern, bold approach. Everyone loves a little black dress, after all, so why not offer it in a gajillion different ways? The sheer layering here in the first look is fantastic; pleats over floral lace, and you can still see a bit of skin. So alluring! The nude satin pumps with oversized black bows in the back are the perfect companion to the dress because they are so fun, and they take away a bit of the serious SEXY going on at the top
I am, of course, still crusading for NUDE DRESSING and this blouse made my heart skip about 55 beats. It's insanely lady-like and I love it paired with the quasi-rock-n-roll patchwork skirt, which, btw, would be the perfect companion to a plain white tee.
A serious dose of glamour, it's kinda retro in its over-the-top-ness, but whatever dude, it is too good to just hide away. I would love to have a crazy embellished coat to throw on on the days where I'm feeling like a poopbucket. Best lil' pick me up ever.
Ruffles are an essential part of Couture, and I always love when designers bring it around the neck and frame the face with them. It's a very "royal" thing to do. My favorite part of this look is that you can see where all the darts and tucks are in the bodice. It's such a cool, functional graphic detail.
Yes! Simple satin shift with weirdo Stegosaurus ruffle. Can this stuff please trickle down to the "regular people" clothes? I want to wear this. I want to wear this EVERY.DAY.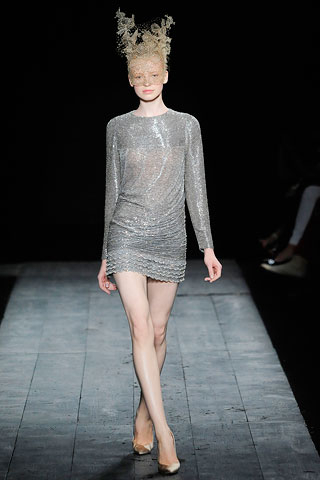 Ooh, and just when you think you know everything that's coming out, you get a little slinky, swingy metallic number. I'm sure Gwyneth Paltrow already has it on hold for her next red carpet venture.
A long nude dress. Sigh. It reminds me of one of my favorite dresses ever, a pink strapless chiffon gown that Donna Karan did for Spring 99. I just spent like 20 minutes trying to find it, in vain. (For you Sex & the City people, it's the dress that Carrie wears when she writes that cheesy poem for her friends' wedding. I couldn't even find a picture of her wearing it, which I figured would be easier than finding the Karan runway pic. Oh well.
Mystery! Drama! Feathers! Valentino!
This is PPP and MGC. Bravo dudes!