Jack and Lazaro were in fine form for spring, delivering a collection that above all, seemed to be inspired by youth. They brought back their surfer theme, which has made an appearance in previous seasons for them and mixed it all in with amazing acid-trip prints kinda reminded me of Tom Ford's EPIC
Spring 1996
Gucci collection. Add to all that a shirt-tied-around-the-waist motif and you got yourself a KILLER collection. But I mean, what else would we expect from these two?
There is something secretly cool about tying a leather jacket around your hips. Especially when you have the perfect blue leather jacket to do it with. But wait! What about if you turn the whole thing into a dress? A blue leather dress with "tied sleeves" details is something I never thought of but it's clearly essential. How do they always come up with the perfect shade of blue? They know my weaknesses so well.
I'm totally into these surf pants dudes, I'm not going to lie. I had a short pair when I was in 7th grade that I wore all the time, these are like a blast from the past, albeit a really classy past that is not at all the one I lived. Time to hit up Roxy?!?
You guys know I love a shirtdress and when I say that this is my most favorite shirtdress ever, I mean it 100%. Magazines always talk about buying "investment pieces" and I think this is the epitome of that. You could wear this now and you could wear it when you're 75 and it will still be a killer look. I am also really into her purple-y/gray tresses, but I'm sure this is a look best left for the runway.
Another sick leather dress, this time in teal. I also love teal, how did you know?
The layering here is totally cuckoo bananas, why not layer a long sleeve tie-dyed tee under your monochromatic blouse and skirt ensemble? I think this skirt is the coolest and I want it.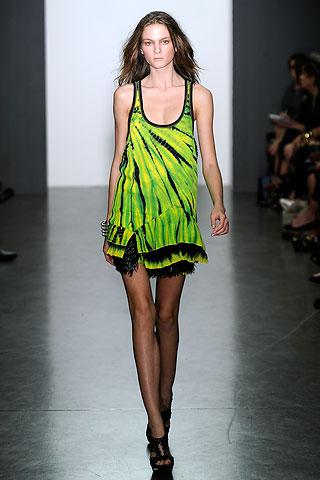 Acid prints are not meant for the girl who wants to blend in with the crowd. This one is giving me serious 7th grade flashbacks of my favorite acid green polyester button down shirt. I obviously need this dress to pay homage to it. (Yes, I really find myself "needing" a lot of these haha).
And if acid prints are not your forte, you can always go with a dress dripping in beads. Very dark and mysterious.
Or MAYBE you love both acid colors AND things dripping in beads, in which case the boys have you covered too! See? There really is something for everyone!