Season after season,
Bottega
Veneta's
Tomas
Maier
keeps putting out quietly classic clothes that ooze luxury and a secret refined-sort-of sex-appeal. The clothes in the resort collection are the perfect mix of everything I want to wear now and everything I want to wear when I'm a super sophisticated woman of a certain age. This suit has the perfect slouchy proportion (the new style for the 2010s), but the best part about it is certainly the leather insets of the jacket. That seems like the perfect go-to jacket. With wide trousers for business, over a little slip dress for
partytimez
and or with a random t-shirt and denim cutoffs because you just can't bother to figure out what to wear. Seriously. ESSENTIAL.
Slim button down shirt tucked into inside-out boy trousers. The shoes remind me of 90's
Airwalks
.
This is such a bizarre mix of casual, Gap-
esque
-everyday(and I mean this in the BEST possible way) casual dress and like,
Margiela
that it becomes the most perfect dress ever. It's dramatic without making a fuss.
This dress feels almost dangerously sexy even though the silhouette itself is very classic. The bodice has a vague scuba-feel, and there's something kinda naughty and 90's awesome about the shiny fabric of the skirt.
I want to dress like this everyday.
It's SO hard to find a good pair of trousers though!
And then THIS. This is my absolute weakness. The color is so striking, and the whole ensemble feels very natural and unplanned. The jacket is AMAZING, and of course the little surfboard shorts could never be wrong.
(The boots are totally
meh
)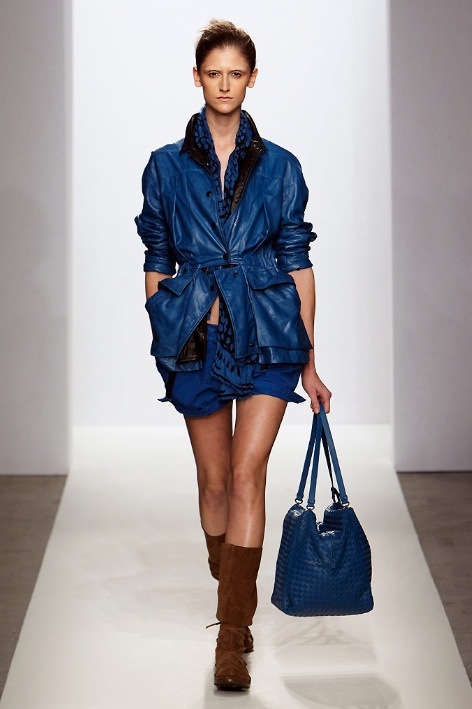 And then my other FAVORITE shade of blue makes an appearance. This whole look is just the next level in cool, man.
Top it all off with the perfect two-toned liquid gown.
Just brilliant.